Games You Wouldn't Expect Online
Games are always fun, whether it's for leisure or just to kill time. We don't think about playing games too often anymore unless it's apart of our commute or routine. The best thing about games though is the fact that they will continually impress you. Here are some small Easter egg games that you may not even know exists.
People are Strange
This game has been quite popular. Lots of popular gaming YouTubers have played this game at least once. It is a funny little game where you need to channel into other people's thoughts. The game is called Google Feud and you are trying to guess the autocomplete they present you based on which category you have selected. There isn't much to the game other than that but it will definitely bring some laughs and some "did someone really Google that?" reactions.
A Game without the Internet
The most frustrating thing is when the Internet sudden dies on you. It's never fun waiting and staring at the screen to get a small little bar of WiFi on your desktop. Well here's one way to relieve some stress and get rid of the buffer time waiting for the Internet to come alive again. Open the Chrome web browser and wait to see the "Unable to Connect to Internet" message then hit the space bar. Volia! A hidden game that will keep you distracted, you will be surprised how much time this little game can kill.
Unique Views to Take
Okay, so this isn't really a game but I promise you it will keep you pretty entertained and curious. Open up the Google page and in the search bar type "do a bar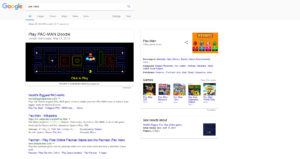 rel roll". Yes, Google will actually do a barrel roll for you. If you want to trip up some of your friends or your parent's type into Google "askew" and you'll have a slightly tilted page. See how long it takes for your friend or families to figure out what happened. Or you have a little fun on Google by Googling Pac-Man. A nice little mini game of Pac-Man will display in your Google Browser. If you are a fan of Zerg Rush then Google that and destroy all the Os before they destroy your searches!
More Google Gems to Find
Now these are just some of the things Google has nicely hidden, but there are definitely lots more to discover. See if you can find all of them, there are quite a lot of fun shenanigans you can get up to on Google. Here's one more, search in Google Atari Breakout and then click the image search. You'll be happily surprised.