"What's in your gift basket?"
The Versailles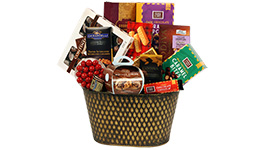 A real treasure of delicious treats in Gift Baskets Toronto. Find Ghirardelli and Godiva Chocolates, Dark Chocolate Caramel Popcorn, Brown Sugar Covered Nuts, Walkers Shortbread, Red Chocolate Cherries, Heavenly Sweets Cookies and a whole lot more!
Learn More »
Party Pleaser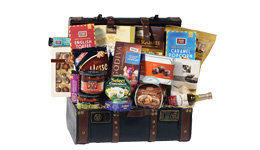 The superior selection of gourmet and sweets included in this sensational chest is a treasure trove for the senses. Included are Rogers Sea Salt Caramels, Wildly Delicious Bread Dipper, Heavenly Sweets Cookies, Sable & Rosenfeld Antipasto, Elsa's Story Crackers and a huge choice of other items.
Learn More »
Cheese Lovers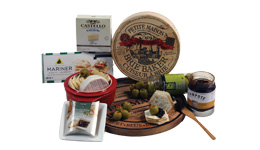 A classic cheese board with a ceramic cheese baker makes this gift perfect for entertaining. On it you will find Brie Cheese, Wildly Delicious Compote, Sable & Rosenfeld Olives, Crackers and more.
Learn More »