Craving Guilty Pleasure Foods at Home?
Everyone has to have experienced this once, when you crave some guilty pleasure foods but you can't find them. No matter how much Googling you do you come up short. Well here are some recipies that you can try out at home to satisfy those junk food cravings and also look like a hero to friends and family.
Time to Fry Up the Craving
Craving for something crispy, salty and with just a hint of oil? Well have no fear this perfect junk food concotion will satisfy that craving in an instant. How does cheese stuffed baked onion rings sound? You just need to get onions, your choice of cheese filling, flour, buttermilk, eggs and bread crumbs. Cut your onions into the desired size then place them in a bowl with buttermilk, cover it and leave it overnight in the fridge to get them soft. Also, place your cheese in the freezer. When you're ready to cook preheat the oven to 425°F and place the onion rings on the baking sheet. Cut the cheese to fit inside the onion ring and then place another onion ring inside the first onion ring to hold the cheese in place. Take your eggs, flour and bread crumbs and put them in separate bowls, beat the eggs as well. Then take the onion rings dunk them in the egg and then in the flour, do this till you think you have a good layer around the rings. Once you have the right amount of flour dunk it again into the eggs and then in your bread crumbs. Place them on your baking sheet then bake until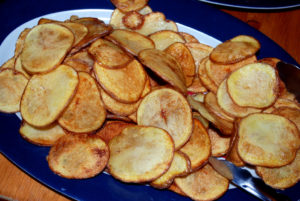 golden.
Crunchy Craving
Looking for some chips in the house but all you found were potatoes? Don't fret you can make your very own homemade potato chips that will satisfy that crispy craving. You'll need potatoes, salt, a slotted spoon, paper towels and a large wok or pan. Get a bowl and fill it with cold water. Cut your potatoes to the desired thickness and then put them in the bowl. Once you are done cutting drain the water and fill it again and with cold water and some salt. Leave the potatoes to soak for about 30 minutes. While you wait for the potatoes to absorb the salty water you can prepare oil in the wok or large pan. Heat the oil to 325°F, usually by the time you get the oil to this temperature the potato soaking time should be just about up. Now start placing just enough of the potatoes to fit nicely that you are able to stir and flip them in the oil easily with your slotted spoon. It'll take about 10 – 20 mins to cook, depending on your crisp level. Once they are done lay them out on paper towels to dry and you can season them again while they are hot. Voilia that crunchy craving will disappear after a bite into your chips.
Sweet Treat
If your craving something sweet or if just want a delicious dessert to serve to family and friends. Whip up these ice cream Bon Bons. You'll need some chocolate that you can melt evenly and your favourite ice cream flavour. This involves a little prep so start by getting a baking sheet and laying parchment paper down on it and placing it in the freezer for 30 minutes. When time is up grab the tray and your ice cream and scoop out a nice sized ball and place it on the tray. Put as many as you can fit and then place the tray into the freezer for and hour. While you wait you can prep and start melting the chocolate so you have it ready to dip when the hour is up. If you want the ice cream to be very hard you can roll them again and freeze for about half an hour to an hour. Once you have the desired firmness of the ice cream start dipping them in the chocolate and placing it back onto the tray. You'll need to work quickly, once all of that is done place it back into the freezer and freeze till the chocolate is hard and then your ready to dig in.
The Wait will be the Only Problem
No matter which guilty pleasure food you decide to make or indulge in, I know it will feel so good to quash that craving. The hardest part though is waiting for all these delicious treats to finish cooking so you can have them in your belly.